AIR FILTER BAGS
We are one of the leading air filter bags manufacturer. Filter Concept Pvt. Ltd. design, manufacture & export a wide variety of reverse air bags. Top constructions consist of strap top, loop top, cord top cuff, compression band tops with steel caps or grommet top bags. Filter bags are manufactured for achieving optimum filtration performance. We are engaged in manufacturing, exporting and supplying hi-tech filtration products to our worldwide clientele. These are technically superior than other similar products available in the market.
Dust Collection non-woven bag (Dust Collection Conventional Bags) offer wide range of filtration solutions for all industrial applications.....
Pocket filter are made up of non woven synthetic fiber media to ensure retention of solid particles up to the stipulated micron rating.......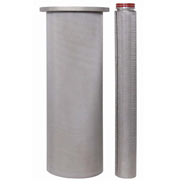 Sintered multilayer wire mesh bags are designed for high temp Application of Industries. It can be used for high temperature up to 480°C.
.