LUBE OIL FILTRATION & HYDRAULIC FILTRATION
Hydraulic & Lube oil filtration degment deals with removal of suspended particles from oil. It deals with high pressure filtration requirement. We, Filter Concept Pvt. Ltd. offers wide range of products for hydraulic and lube oil filtration process.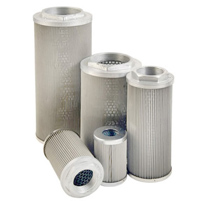 HYDRAULIC & LUBE OIL FILTERS-HYDRAULIC FILTRATION
Filter Concept Pvt. Ltd. is one of the leading Hydraulic & Lube Oil filters exporters. Hydraulic filters are used in demanding applications of filtration of oil at any operating conditions. Irrespective of operating conditions like high pressure, low pressure, highly viscous oil, or highly contaminated oil, we have best adequate solution for these applications. We have filters which can remove moisture contents from oil.

.
HYDRAULIC & LUBE OIL FILTRATION APPLICATIONS
» For Aeronautics Applications
» For Heavy Earth Moving
» For Hydraulic
» For Ceramic
» For Power Plant
» For Refineries
.